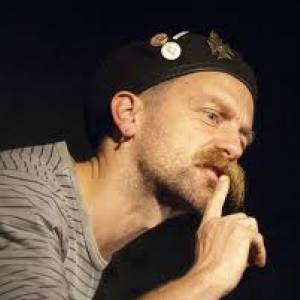 Here are some of the poems written by Jonny Fluffypunk and Fergus McGonigal as part of their Poetry on Demand sessions at Bridgnorth and Shrewsbury libraries.
Flowers
For Dave (from Selina, with all her love)
I did not pause to smell the flowers,
   Nor stop to marvel at each pretty face,
For too concerned was I with future showers,
   To treasure, as I might, our day of grace.
Each rose I'll now appreciate,
And worrying will have to wait,
   For I will make our home a carefree place.
In years from now, you'll see that this commitment,
   Is true as any vow to you I've made.
I'll tend a bed of flowers for love's enrichment;
   We'll see their multi-coloured blooms arrayed.
And happiness will be our lot,
Anxiety can be forgot,
   For like these hues our love will never fade.
Fergus McGonigal
(Notes to Dave: 1. Selina wanted a poem where flowers were a metaphor for wedding/marriage; 2. You are a lucky man)
(Note to Dave and Selina: All the very best of happiness in your married life; may blessings walk with you always, and all your showers be ones of petals.)
The Bridgnorth Cliff Railway
My sisters have more charms, it's true
One's in Aberystwyth; she takes you up
Lifts you to stare to sparkling infinity
across the dolphin blue of Cardigan Bay;
& Hastings, she warms your heart
with warm romance of wooden boats,
the foam-flecked fishermen
tending nets, the tacky glamour
of screaming slot arcades
& motorbikes parading up and down the strip
& Lynton, and Babbacombe,
Saltburn, too; they all woo you
with golden sands, the curlews crying
against blood-red sunsets
& the wild beckoning of their bare horizons.
I have none of their brash appeal.
I'm a quieter sort, a Shropshire lass
land-locked and tucked away.
But come with me; I too will take you up
the rope will strain, the car creak
& we will grind heavenwards
along our two silver ribbons
& I will give you gentler delights-
the library and Smiths, the town hall
& a fistful of great charity shops.
Jonny Fluffypunk
Grace
Remember this: that you are always loved.
When all the petty interferences
of daily life disrupt your peace of mind,
or compromise your happiness (or worse),
please keep in mind that you are kept in mind
and heart, not just on special days we mark
with cards and gifts, but every single day.
And know that you are always truly loved.
   A life that's lived inside a bygone book
is one that's worth the living, that's for sure,
for that is what this life is all about:
the search for meaning, truth and understanding,
which only time's perspective can bestow.
It's always worth the toil, this timely quest,
(despite the fact that sometimes it's as hard
to comprehend as Eastern Slavic grammar!) 
   Now, take a look at all the words herein,
and see if you can spot some hidden meaning,
for Grace is more than just a pretty name,
and that is why she's evermore belovèd.
Fergus McGonigal
Dad… and the Strad
(Gaia, a girl of about 12, who's practising for Grade 5 and who wanted a poem about a violin, and her Dad – who's doing an MA in Poetry – and bribing her…)
Young Gaia said, "It's just too bad –
I can't afford an antique Strad!"
And then she hit upon a plan:
"I think I know a generous man…"
            And thus she shouted, "DAD!"
"Oh, Father, I've a fine request
To turn me into THE world's best
Person on the violin;
No longer will I make a din,
            Or be a sonic pest."
"I'll practice if you give me cash,
And on Grade 5 I'll be a smash!"
Dear Dad replied, "Of course, my pet."
A promise he would soon regret,
            For it was rather rash.
She practised every single bow,
Both up and down her arm did flow,
The music was both sure and sweet,
To listen to her was a treat,
            "But Dad," she said, "you owe!"
"You owe me fifty-thousand quid."
But Dad ran off, he ran… then hid!
"I can't afford that heap of wood,
I really never, ever should
            Have promised to my kid!"
And the moral is:
If you want a Stradivarius,
Ask someone who drives a Ferrari.
Fergus McGonigal
Biscuit Poem
I want a biscuit, mum
I do, mum, I do
I want a chocolate HobNob
And Oliver wants one, too
And no, mum, I'm not sharing it
Even though there's only one
Oliver doesn't need it, mum
& sharing isn't fun…
Hey! You've given him the HobNob!
Mum, that's just not fair.
Oliver! YOU GIVE ME HALF
OLIVER, LEARN TO SHARE!
Jonny Fluffypunk 
Flute
 (For a lady who had played the sax years ago but has wanted to play folk and blues on the flute for years…)
I'm done with making sounds which resemble
asthmatic walruses (the saxophone,
in case you haven't heard), for now's the time
to listen to my heart and let me follow
her folkish, bluesy tones towards a flute.
At first, I'll buy a second-hand affair:
a flute for me to fall in love with in
my terraced cottage. When I've mastered this
sweet mistress, I will venture  forth and let
the world will listen to how my heart can sing.
Fergus McGonigal
("asthmatic walruses" was her phrase)
Our Nan
Our, Nan, right-
Our Nan, right, she's great
She sometimes takes us camping
& she lets us stay up late
& she lets us have these midnight feasts
when we're staying in our tents
& you'll never guess, but our Nan
Our Nan only went & got into a hot tub! At her age!
Yeah, our Nan's great.
Our Nan, right-
Our Nan right, she's ace
She has a try at football
& the ball's all over the place
& she has a try at ballet
& she not quite got it, no
But it's really cool that someone old
Still gives these things a go
Even though she might strain something.
Yeah, our Nan's ace.
Nan, you're great.
Nan, you're ace
Nan, you come first
In the great Nan race
Just leave the cooking to someone else, please.
Jonny Fluffypunk